Selbst-/Reflexion in der Kultur- & Sozialanthropologie
Marion Linska
Broschiert: 152 Seiten
Verlag: Books on Demand; Auflage: 1 (3. Dezember 2012)
Sprache: Deutsch
ISBN-10: 3848250888
ISBN-13: 978-3848250882
Dieses Buch beschäftigt sich mit der thematischen und fachgeschichtlichen Aufarbeitung der Selbst-/Reflexion innerhalb der Ethnologie bzw. Kultur- und Sozialanthropologie. Durch die unterschiedlichen Zugänge zum Feld hat sich die wissenschaftliche Position des/der ForscherIn im Feldforschungsprozess wie in der qualitativen Forschung geändert. Das Forschungsparadigma von Subjektivität und Objektivität, verbundenen mit den jeweiligen Qualitätskriterien, hat auch Einfluss auf die Bedeutung der Selbst-/Reflexion im wissenschaftlichen Prozess. Daraus entstandene Veränderungen im Umgang mit der Selbst-/Reflexion im Forschungskontext, sowie die begleitenden Problemstellungen und Grenzen werden in diesem Buch behandelt.
http://www.amazon.de/dp/3848250888/?tag=ethnologie-21
Lexikon der Globalisierung
Fernand Kreff, Eva-Maria Knoll, Andre Gingrich
Broschiert: 536 Seiten
Verlag: Transcript; Auflage: 1., Aufl. (6. September 2011)
Sprache: Deutsch
ISBN-10: 3837618226
ISBN-13: 978-3837618228
Die Globalisierung hat die Welt grundlegend verändert. Die radikalen Folgen dieser Revolution betreffen nicht nur abstrakte Prozesse in Wirtschaft und Politik, sondern sind konkret in unserem Alltag erlebbar. Das Lexikon der Globalisierung bereitet in mehr als 140 Einträgen die Ergebnisse der kultur- und sozialwissenschaftlichen Globalisierungsforschung in einer verständlichen und anschaulichen Sprache nicht nur für eine wissenschaftliche Leserschaft, sondern auch für eine breite Öffentlichkeit auf. Dabei steht neben der Klärung von Begriffen und Debatten die alltägliche Erfahrung von Globalisierung im Vordergrund. Das Lexikon ist somit ein unverzichtbarer Wegweiser in der Unübersichtlichkeit der Globalisierung und ihren Kämpfen und Debatten. Mit Beiträgen u.a. von Arjun Appadurai, Ulrich Beck, Ulf Hannerz und Salini Randeria. 
http://www.amazon.de/Lexikon-Globalisierung-Fernand-Kreff/dp/3837618226/ref=sr_1_1?ie=UTF8&qid=1336293862&sr=8-1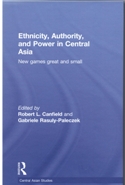 Ethnicity, Authority, and Power in Central Asia: New Games Great and Small
Edited by Robert L. Canfield, Gabriele Rasuly-Paleczek
• Binding/Format: Hardback
• ISBN: 978-0-415-78069-8
• Publish Date: September 8th 2010
• Imprint: Routledge
• Pages: 272 pages
Series: Central Asian Studies

Description:
The peoples of Greater Central Asia – not only Inner Asian states of Soviet Union but also those who share similar heritages in adjacent countries like Afghanistan and Pakistan, Iran, and the Chinese province of Xinjiang – have been drawn into more direct and immediate contact since the Soviet collapse. Infrastructural improvements, and the race by the great powers for access to the region's vital natural resources, have allowed these peoples to develop closer ties with each other and the wider world, creating new interdependencies, and fresh opportunities for interaction and the exercise of influence. They are being integrated into a new, wider economic and political region which is increasingly significant in world affairs, owing to its strategically central location, and its complex and uncertain politics. However, most of its inhabitants are pre-eminently concerned with familial and local affairs.
This work examines the viewpoints and concerns of a selection of groups in terms of four issues: government repression, ethnic group perspectives, devices of mutual support, and informal grounds of authority and influence. Responding to a need for in-depth studies concerning the social structures and practices in the region, the book examines trends and issues from the point of view of scholars who have lived and worked "on the ground" and have sought to understand the conditions and concerns of people in rural as well as urban settings. It provides a distinctive and timely perspective on this vital part of the world.

Content:
Robert L. Canfield
Part I, Repressions and their Consequences
1. Authoritarianism and Its Consequences in ex-Soviet Central Asia - Anatoly Khazanov
2. Localism and Identity among the Uyghur of Xinjiang - Ildikó Bellér-Hann
Part II, Ethnic Perceptions and Reactions
3. Central Asian Attitudes towards Afghanistan; Perceptions of the Afghan War in Uzbekistan – Peter Finke
4. Alignment Politics and Factionalism among the Uzbeks of North-Eastern Afghanistan - Gabriele Rasuly-Paleczek
5. Rebuilding Afghanistan - Thomas Barfield
6. Pukhtun Identity in Swat, Northern Pakistan - Charles Lindholm
Part III, Devices of Mutual Support
7. Towards a Transnational Community: Migration and Remittances among the Hazaras - Alessandro Monsutti
8. An Interregional History of Pashtun Migration, c. 1775-2000 - Robert Nichols
Part IV, Mechanisms of Authority and Influence
9. Political Games in Post-Soviet Uzbekistan: Factions, Protection and New Resistances - Boris Petrić
10. Female Mullahs, Healers and Leaders of Central Asian Islam: Gendering the Old and New Religious Roles in Post-Communist Societies - Habiba Fathi
11. Efficacy and Hierarchy: Practices in Afghanistan as an Example - Robert L. Canfield

Author Bio
Robert L. Canfield is Professor of Anthropology at Washington University, St. Louis, USA. His many publications include (as co-editor) Revolutions and Rebellions in Afganistan, and (as editor) Turko-Persia in Historical Perspective.
Gabriele Rasuly-Paleczek is Associate Professor in the Department for Social and Cultural Anthropology, University of Vienna, Austria
http://www.amazon.de/Ethnicity-Authority-Power-Central-Asia/dp/0415780691/ref=sr_1_1?ie=UTF8&s=books-intl-de&qid=1290688232&sr=8-1